Discover more from The MacroTourist
The almost daily email about markets from Kevin Muir.
Over 27,000 subscribers
Weekend Colour Commentary
Nice guys don't finish last
This week's Twitter Follow
I remember the first time I watched a RealVision interview with Jawad Mian.  It was filmed in Dubai and I was struck not only by the unconventional location, but also Jawad's out of the box thinking.  Whereas most hedge fund jocks were busy telling the story about why the world was about to end (everyone was bearish back then), here was this calm, articulate fellow who quietly mapped out why the bull market would continue.  That was over three years ago, and I have made a point of following Jawad closely since.
In fact, I had the privilege of meeting Jawad in person, and I can confirm, he is just as genuine as he appears on TV.  He lives in the hedge fund world, but never forgets that we are all people who should focus on being kind to one another.  It's a weird combination as too often it seems like the ones who rise to the top are the most aggressive types who treat everything (and everyone) like a transaction.  This is definitely not the message that Jawad wants to broadcast.  
That's not to say that Jawad's financial acumen is any less honed.  It's just nice to see that being a market guru doesn't mean you also need to be a jerk.  If there was a mathematical formula of financial-market-knowledge-to-the-power-of-being-a-nice-person, Jawad would be the top of the list.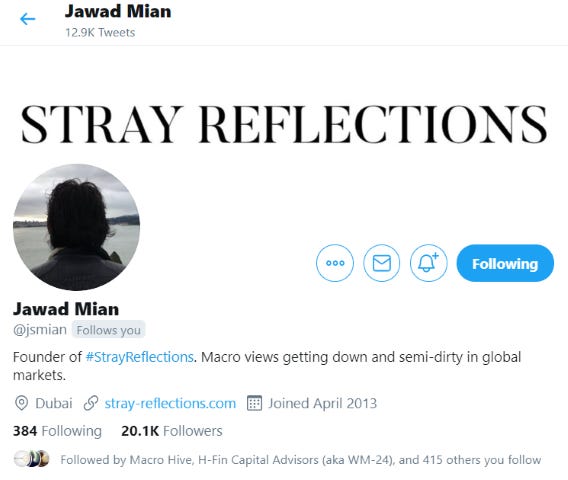 Given Jawad's previous prescient equity bull market call, it is with great interest that I noticed Jawad slowly shifting away from the equity bull camp.  Here is a recent great twitter thread he posted that outlines some of his concerns.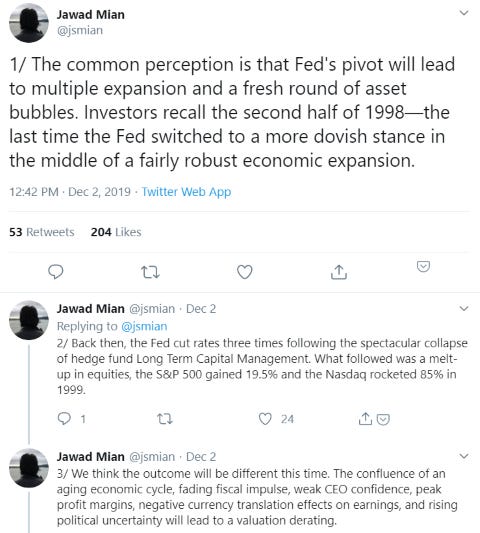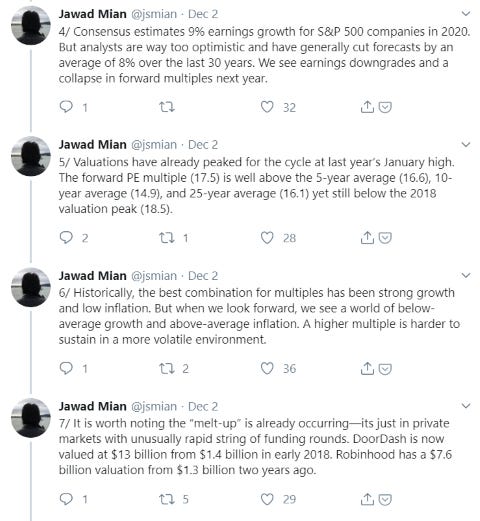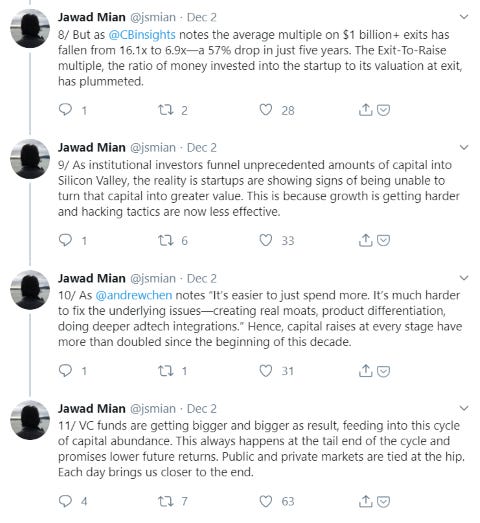 To follow Jawad on Twitter, click here.  If you are interested in reading his Stray Reflections blog, then subscribe here.  Just be forewarned, this is more about life than it is about market, but Jawad hooked me when he told the story about his experience as a new Canadian around Christmas time.  And yeah, Jawad - Fairytale of New York is definitely an under-rated Xmas tune.
---
Recommended Podcast
Keeping with my theme of nice people in the finance industry, this week's podcast recommendation is Jesse Felder's Super Investors.  I don't know if it's that Jesse is from Bend Oregon and they are just nicer out there, or it's that we share the same hairstyle, but I always have found myself smiling when I listen to Jesse.  His Super Investors podcast is a great example of his relaxed nature bringing out the best in his interviewees.  This week is another great episode with Rob Arnott from Research Associates speaking about engineering a better index.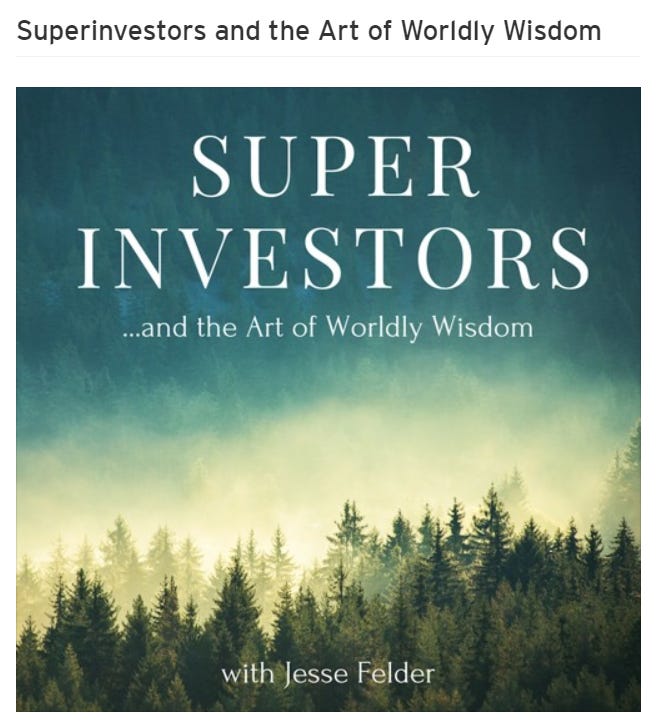 But I would be remiss if I didn't highlight my all-time-favourite episode when Jesse interviewed Roger McNamee.  Here is the description:
Roger McNamee is one of the most successful technology investors of all time. While running the T. Rowe Price Science & Technology Fund, and generating a 17% compound average growth rate in the process, Roger made the unheard of move of committing capital, as a mutual fund manager, to venture investments in Electronic Arts and Sybase. From there, he started the industry's first crossover fund with John Doer, investing in both late-stage venture capital and public market securities. In March of 2000, he co-founded private equity firm Silver Lake Partners in anticipation of the tech bust and, in 2004, founded Elevation Partners where he would become one of the first investors in Facebook and other nascent tech stars. In this episode, Roger shares what made him so successful as an investor, how music saved his life and why he has shifted his focus today from investing in tech to warning of the rising risks tech giants present to democracy and society.
This is a can't miss couple of hours.  Make the time for it.  You won't regret it.  Here is the link.
---
Not a lot of pushback on this post, so I have little feedback to share, except to note that one reader (correctly) commented that I managed to top tick the steepening trend in the yield curve with my article.  Yup.  That's how it works.  I am always loath to write about my trades for fear of goochering them.  This was definitely one of those cases.
---
This post received more comments, so I will just shoot them off.  Let's start with this one:
"How many times have you seen a risk staring everyone straight in the face, yet the market ignores it?  And then when that risk comes to be, everyone freaks out"

My thoughts exactly while staring at the UST bond futures while Pelosi was announcing articles of impeachment.  Not even a half-tick lift of TY.  Not even a 1/4 lift on FV. Maybe if the Senate surprises and decides to go Brutus on Caesar we'll see the risk come to be.
Then one astute reader noted that my S&P 500 range was close to the same as what the option market was pricing in:
You could have just looked at the SPX options too. Jan 21 atm straddle in SPX about $430 so call it roughly 2700-3550. Looks like a good mkt to me.
But my favourite response?  I rather well-known sometimes-skeptical-(maybe-grumpy) strategists sent me this:
The only thing necessary to rebut Tudor is to point to stocks' trajectory in the months leading up to 2016 and the immediate post-Trump reaction on election day.

Market don't know nuffink.
I had to google nuffink to make sure it wasn't a typo. Ahhh, those millennials...
---
Last thought for the weekend
I usually leave you with my favourite chart, but this week is different.  We have already had two nice guys featured in this week's roundup, so I thought I would end with a third.
I don't know Jon Boorman, but I sure admire him.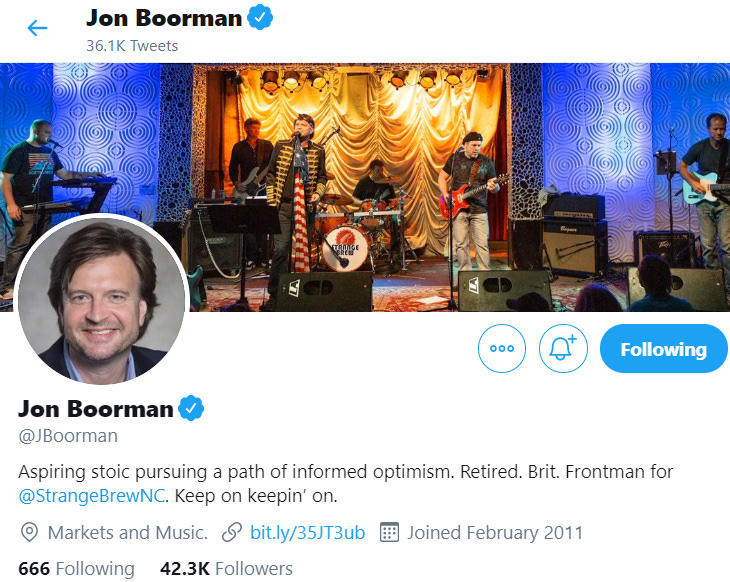 Twitter can sometimes be a terrible place.  There are individuals who seem to delight in sharing their misery with the rest of the world.  I try to block them out, but occasionally it makes me question whether it is worth it.
But then I stumble across an individual like Jon.  
Jon recently announced that he has 1-3 months left to live.  Faced with incredibly difficult news, Jon has handled the development with a stoicism that has been inspiring.  And the outpouring from the financial twitter community has refreshed my faith in humanity.
Let's all take a moment to peruse Jon's terrific blog post "Some things I have learned over the last 30 years".  It's mostly market related, but there are some nuggets of wisdom about life that we should all never forget.  Thanks Jon.  People like you make this world a better place.
Thanks for reading and have a great weekend,  
Kevin Muir  
the MacroTourist