Discover more from The MacroTourist
The almost daily email about markets from Kevin Muir.
Over 27,000 subscribers
WEEKEND COLOUR COMMENTARY
Recommended Podcast
As some of you may know, my podcast partner Patrick Ceresna cheats on me with another show.  I can't say I blame him when he gets guests like Russell Napier (click here to be taken to the episode).


If you offered me the opportunity to have a few pints with any macro strategist, Russell would be number one.
Make sure you take the time to listen to Russell discuss the current macro environment and the risks he sees going froward.  You won't be disappointed.
---
This Week's Twitter Follow
Chances are good that you already follow the most famous 162-year old on twitter, but if you don't, make sure you give Rudy Von Havenstein a chance.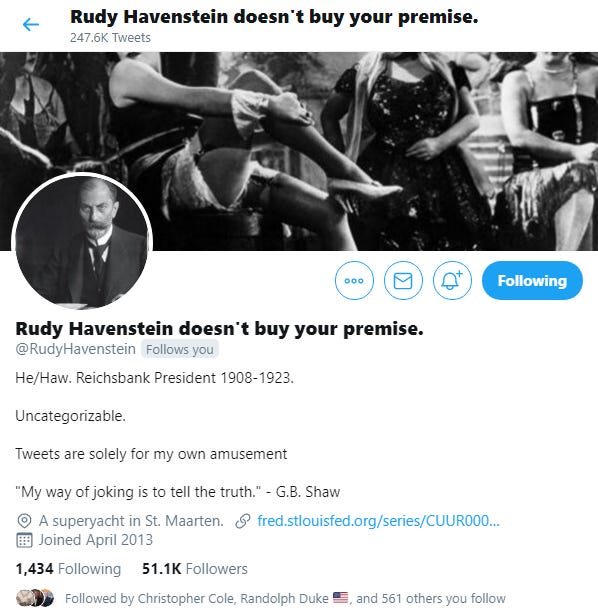 He's probably my favourite pundit out there.  Yup.  I said it.  Some crotchety old Central Banker from the early 1900's has the best content on the internet.  Bar none.  
---
This Week's MacroTourist Posts
Monday, January 20th, 2020
This post was written on Martin Luther King day.  At the time, the market seemed unconcerned about the Chinese flu epidemic.  I warned that I hoped I was wrong, but that the market was underestimating the potential of this problem getting worse.  Unfortunately, it looks like that warning was correct.
Wednesday, January 22nd, 2020
I tried something new with this piece - posting snapshots of articles that showed the true extent of the frothy sentiment.  However, the message wasn't clear to everyone.  I didn't want to write another post ranting about the dangers in the stock market.  I felt this picture essay might be a more fun method of showing the one-sided nature of market participants' attitude towards risk.  Not sure if I will do these in the future.  Maybe a little more explanation might be in order.
Thursday, January 23rd, 2020
This was a fun post to write as I was keen to share the insight I learned interviewing Brent Kochuba from SpotGamma.com.  The option expiry drift was something that had long perplexed me, and it was great to finally be able to explain it.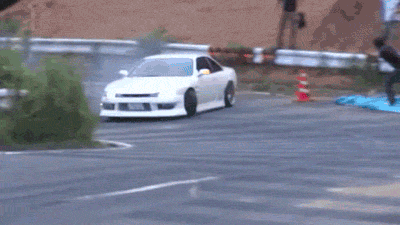 However, in my rush to get out the piece, I mistakenly calculated the dealer's hedge incorrectly.  It is now fixed, but maybe it is a good thing I'm not running a big book anymore.  Bonehead mistakes like that are embarrassing.  Big thank you for the sharp-eyed option expert who brought it to my attention.
As for the actual article, there were a few people who pushed back on my assumptions.  One of my good buddies wrote about the tendency for the market to drift higher, "All the time? that must shift to below 0 [when gamma is negative for the dealers]?" and proceeded to include the following gif.
And yes, he is correct.  If the dealers are short gamma, then the opex expiry sets up completely different.  I simplified the example to keep it easier to understand.  Maybe I can write another post about what happens if we expire with the dealers short gamma.
It was a pleasure to have fellow Canadian, Aneet Chachra from Janus Henderson reach out to share his insights about OpEx tendencies.  You can read his analysis in the piece - Portfolio Rebalancing - Pick a Different Day.  When I read that Aneet is based out of Newport Beach, California, I realized he is way smarter than me (who is sitting in the freezing cold as I write this) and that his piece is probably better...
Holy smokes.  I wrote this post about uranium and then proceeded to tweet out a link to the article.  The discussion that ensued was lengthy (and heated).  It seems like uranium is a sore subject for some investors.  
I did like this one comment about the difficulties in being a contrarian: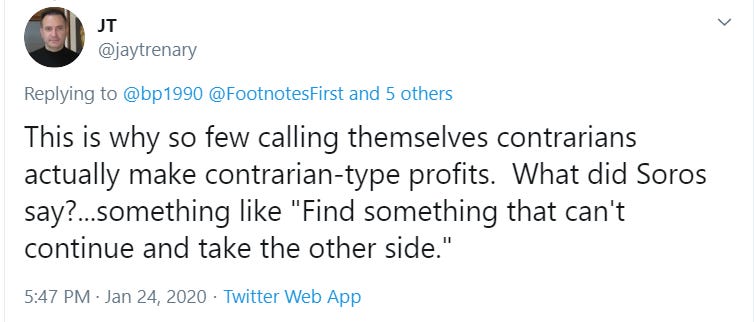 ---
Market Huddle Podcast
Like that feeling of hopping on your first roller coaster as a 12-year old, this week's podcast was a real hoot.  We interviewed Boris Schlossberg about his life in NYC before it was sanitized, his experiences living through three major crashes and how he is adapting to today's markets.  Click here to be taken to the Apple Market Huddle podcast page.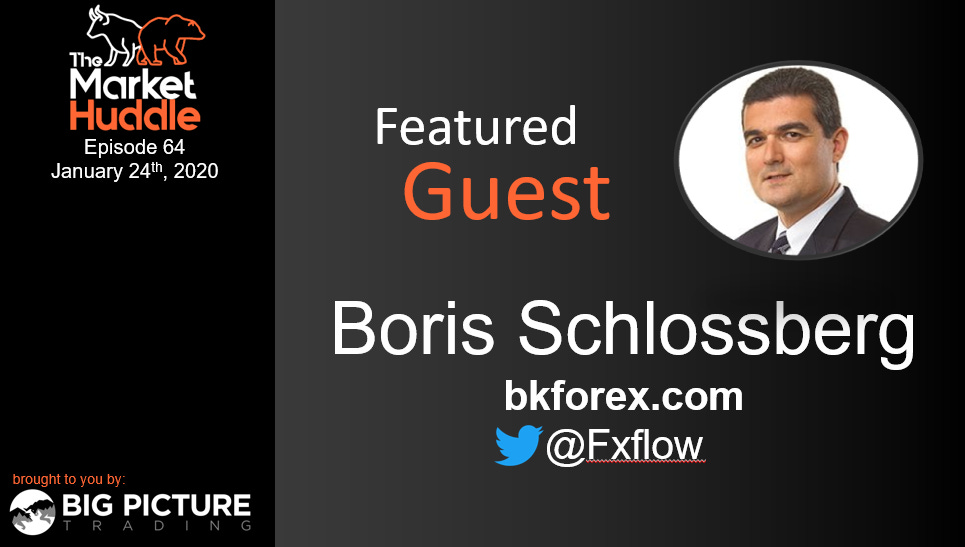 ---
Chart of the Week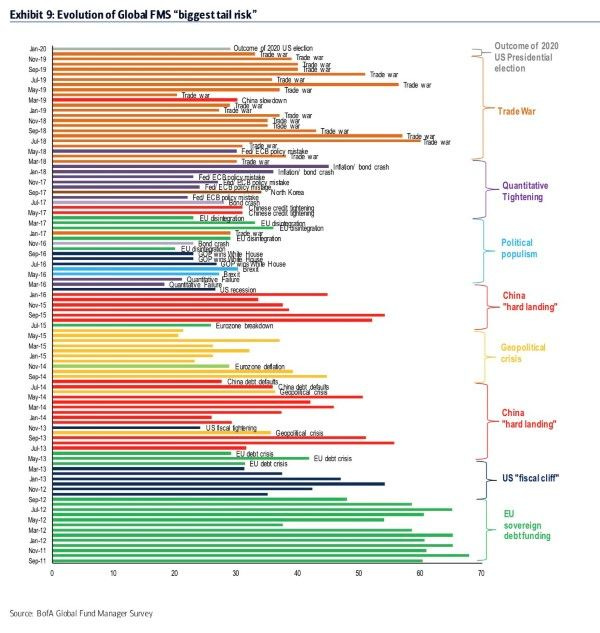 Remember - the biggest risks to the market are the ones not priced in.
Have a great rest of the weekend,  
Kevin Muir  
the MacroTourist